Stand Down Soldier your Duty is Done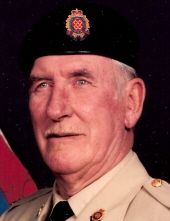 Col Alexander Peter Cowan
With our deepest condolences to the family of Col Cowan, the Royal Newfoundland Regiment Museum on behalf of the Royal Newfoundland Regiment Regimental Advisory Council (RAC) announce the passing of one of our members. Col Cowan joined the Regiment in the early days of its re-formation shortly after Confederation. He continued to be active in the affairs of the Regiment up until recently as a member of the RAC. Col Cowan was a true gentleman soldier.
Colonel Cowan joined the Royal Newfoundland Regiment as a Private (bugler) in March 1950. In 1955 he was appointed 2nd Lieutenant with 1 Royal Newfoundland Regiment. In 1964 he was appointed Aide-de-Camp to H.R.H. Princess Mary – The Princess Royal. In 1968 Alex was attached to the 2nd Black Watch in Gagetown, N.B. Promoted to LCol in 1970 and appointed Commanding Officer of 36 Service Battalion. In 1974 he was appointed Commanding Officer of 1 Royal Newfoundland Regiment. In 1975 Colonel Cowan was appointed Commanding Officer of Newfoundland Militia District. In 1980 he was appointed ADC to The Governor General of Canada. In 1994, Alec was appointed Honourary Colonel of the 36 Battalion.
Thank you for all your work and dedication, stand down soldier your duty is done.
Extracted from barretts.ca
Passed peacefully away on June 8, 2020 in the company of family, Alexander Peter Cowan (Col ret) in his 95th year. Predeceased by his parents Robert A and Jesse (Furness) Cowan, brother Furness and sister Frances (McKinley).
Devoted husband, father and grandfather. Leaving to mourn his loving wife of 65 years, Florence (Blundon) Cowan and children Peter (Judy) in Alberta, Stephenie (Bill Crane) in St. John's and Craig (Janice) in St. John's/Quebec. Also mourning are his beloved grandchildren Michael, Jenn, Andrew, Haley, Alanna, Josh, Megan, Steven and numerous great grandchildren.
Dedicated member of the Royal Newfoundland Regiment, Service Battalion, Army Cadet League, Signal Hill Tattoo, Singing Legionnaires, Royal Canadian Legion and St. Andrew's Presbyterian Church. His working career spanned four decades with federal Fisheries & Oceans. His military involvement ran from his teenage years up to the time of his passing.
Leaving behind a large circle of friends, relatives and acquaintances.
Special thanks to the staff at Palliative Care during his short stay and special friend Rev. Dr. Ian Wishart (Minister Emeritus).
Due to restrictions imposed by Covid-19, a private memorial service will be held on Friday June 12 at 2:00 pm at Barrett's Funeral Home, 328 Hamilton Avenue. Private visitation prior to the service will occur from 1:00 to 2:00 pm at Barrett's Funeral Home. The service will be live streamed at 2:00 pm Friday from Barrett's Chapel. Please visit www.barretts.ca for the live stream link. Burial will take place following the service at Memorial Gardens Cemetery, Mount Pearl.
In his memory, donations can be made to The Gathering Place.